Athens, OH dérive- January 24th, 2007 - 31 degrees F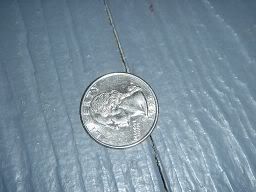 Start: Ark and Mound
1st Coin Toss: Heads start down Mound - Tails start down Ark. Tossed Heads.
2nd Coin Toss: Heads take a Left - Tails take a Right. Tossed Tails.
1st Left, 1st Right Algorithm
1st Left
- onto shortcut alley.
1st Right
- onto Carpenter Street shortway back towards Mound.
Next Left
- back onto Mound
Next Right
- onto main part of Carpenter
I just ended up where I would have if I had walked straight down Mound.
Next Left
- what I think is an alley off of Carpenter but it turns into a parking lot. Look around and take some pictures. Walk back out to Carpenter.
Repeat Left
- onto 1st Street. I've never been on this street yet it's so close to home. Steep street. No sidewalk. Cemetary on the left.
Next Righ
t - Walker Street. Still no sidewalk. No Outlet sign ahead but....
Next Left
- I turn before entering the No Outlet. Interesting road layout. Two lefts onto roads nearly parallel. I take the 1st left according to algorithm. I'm not really sure what road I'm on. West Hills Road above.
The two roads combined again.



Next Right

- onto Slaughter Road.


Next Left

- onto Rardin Avenue. Quite road with 70's style homes. Seems as if it is a thru street for traffic.
Forced to turn Left onto Schafer. Sidewalk starts.


Next Right

- onto Clarke Street.


Next Left

-

onto Central Avenue. Pass West Elementary. A few kids sledding.


Next Right

- onto West State Street which leads directly to the power plant and no outlet. I take a Left instead. I will take Next Right due to forced Left. Pass the infamous Miller's Chicken.


Next Right

- back onto Schafer Street. Pass a restaurant (Mistretta's) and see a new store, Beads & Things. The University Commons on the Right.


Next Left

- Washington Street. Passed the West End Tavern - whatever happened to West End Tavern? Lots of alleys on the Left but none on the Right. I pass the girl who was running he camera from the lecture las night.


Next Right

- onto Maple Street. Cross paths with old man I passed on West Hills Street. Is he on a
dérive too?
Next Left
- into an alley. I think twice about going down it. Maybe it's another parking lot, or a place I'm not suppose to be.
Next Right
- another alley with two loudly whining beagles.
Next Left
- onto Byard Street. Quiet but void of office building and storage?
Next Right
- Smith Street. Very quick and then a turn onto....
Next Left
- Foster Place. A abandoned looking, very large home on the Right.
Forced Right
- Interesting homes across from each other. One is very run down and the other is a brand new apartment type building.
Next Right
- onto Union Street.
Next Left
- onto Factory Street. Now out of neighborhood and into Ohio University facility buildings.
Next Right
- Moore Street. Feels more like an alley or thruway than a road.
Next Left
- onto S. Schafer Street. Bank on the left and practice fields on the right. Hospital after fields. Following the river and bike path.
End at Richland and Schafer.